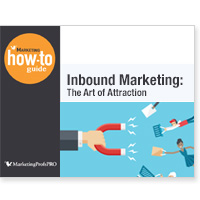 Inbound Marketing: The Art of Attraction
Buyers are 60% of the way to a decision before they contact sales, according to Forrester. How they get there, and what influences them along the way, is as much art as it is science.
Enter inbound marketing.
Inbound marketing is not a tactic, but a process. It's a way of looking at the customer relationship that parallels any other: first, you determine whether there's a mutual attraction, then you go about building a relationship based on shared interests and values. Whether it's a platonic relationship or a romantic one that you're pursuing, it's premised on respect—something that insistent, interruptive, old-school outbound marketing techniques didn't allow for. Relationships today are built with information. Forging them requires a firm grasp of your company's buying cycle and ideal customers, an understanding of the power of quality content, and the acknowledgement that, as a marketer, you are not in control. The customer is.
In this 22-page guide, you'll learn how to understand the true value your company has in the marketplace, create great content in multiple iterations that meets customers where they are, and market your content across multiple channels to cement the relationship and convert prospects to leads.
You will learn:
How to establish a sound strategy
How to develop content for each stage of the buying cycle
How to distribute your content to maximize its reach
… and much more!
This is just one of over 4000 marketing downloads, templates, guides, research reports, surveys, case studies and how-to articles INCLUDED with PRO Membership. Sign up today
MarketingProfs' Onsite and Online Marketing Conference Calendar
MarketingProfs onsite and online marketing conferences are designed to provide the best training from expert speakers on the marketing challenges that really matter to you and to your bottom line.Click here to request information on sponsorships. For speaker submissions, complete this form.
Upcoming Conferences
B2B Marketing Forum 2017Tuesday – Friday, October 3 – 6, 2017

B2B Marketing Forum is more than just a quirky (not-so-little) conference. It's the place where theleaders, the innovators, the people who make things happen gather to learn about the latest in B2B marketing, fill their knowledge gaps, and share the secrets to their success. Get your ticket today.
Recent Conferences
Virtual Conference Series: Content MarketingJune 9, 2017

Join us for this online and on-demand Virtual Conference to get actionable tips and insights to help you create more content. Smarter content. Content that gets your brand noticed. The conference will include 3 educational sessions, free attendee-only resources, and a networking lounge.

Virtual Conference Series: Email MarketingMay 12, 2017

Join us for this online and on-demand Virtual Conference to step up your email game and get more opens, clicks, and conversions. The conference will include 3 educational sessions designed to give you actionable insights that you can implement immediately. In addition, you will have access to a networking lounge, a sponsor area, and a resource center with attendee-only extras.
https://googleads.g.doubleclick.net/pagead/viewthroughconversion/950113032/?random=1500934453168&cv=8&fst=1500934453168&num=1&fmt=1&guid=ON&eid=376635471&u_h=768&u_w=1366&u_ah=728&u_aw=1366&u_cd=24&u_his=3&u_tz=-420&u_java=false&u_nplug=4&u_nmime=5&frm=0&url=https%3A%2F%2Fwww.marketingprofs.com%2Fevents%2F&ref=https%3A%2F%2Fwww.marketingprofs.com%2Fstore%2Fproduct%2F2226%2Finbound-marketing-the-art-of-attraction&tiba=Online%20Marketing%20Conference%2C%20Live%20Marketing%20Events%20-%20MarketingProfs
Video Marketing Tutorials: Most Recent
Access thousands of our most recent online marketing resources here. Select any of the popular topics below to narrow your search. Get unlimited access to all of our exclusive marketing resources. Go PRO Today
Go PRO Now
Get unlimited access to all of our exclusive marketing resources